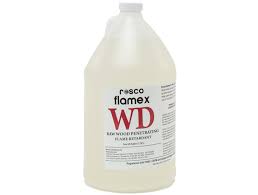 Rosco Flamex WD 3.79 Litre
€108.25 incl. tax*
Description
Rosco Flamex WD can be used to treat wood and cellulosic materials.
DO NOT INTERMIX old and new Flamex products.
After the Rosco Flamex WD treatment has dried fully, wood materials can be painted or stained without affecting the flame retardance.
Use to treat:
Plywood

Luan

Pine boards

Hardwood

Homosote

Hay bales

Masonite

MDF
For directions on how to apply to specific materials, please visit the Rosco website
https://us.rosco.com/en/product/roscoflamex-wd
Category Flame Retardant
* Based on residence in Ireland. Tax rates for other countries will be calculated at the checkout. Price exclusive of tax: €89.46.