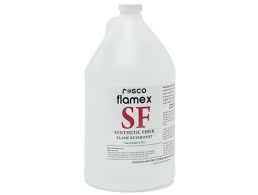 Rosco Flamex SF 3.79 Litre
€128.50 incl. tax*
Description
Rosco Flamex SF is designed to be a penetrating treatment that bonds to the surface of the threads deep within the weave of the material, securing the flame retardant chemicals and rendering an effective treatment. Do not intermix old and new Flamex products.
Rosco Flamex SF will treat many synthetic fibers.
Use to treat:
Polyesters

Nylons

Acrylics

Rayons

Most cotton/synthetic blends
While Rosco Flamex SF will work with many of these, always test a sample to insure compatibility. Leaving no residue or powdery build up, Rosco Flamex SF simplifies the task of insuring all your softgoods and scenic fabrics will meet fire regulations.
For more information on how to apply on specific materials, please visit the Rosco website
https://us.rosco.com/en/product/roscoflamex-sf
Category Flame Retardant
* Based on residence in Ireland. Tax rates for other countries will be calculated at the checkout. Price exclusive of tax: €106.20.