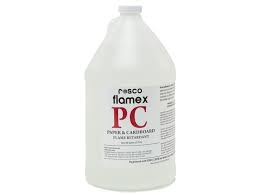 Rosco Flamex PC 3.79 Litre
€107.04 incl. tax*
Description
Rosco Flamex PC have formulated a flame retardant specifically to treat the many paper and cardboard products commonly used in props and scenery construction. Most paper products without a wax coating, polyurethane, or similar water resistant properties can be effectively treated.
DO NOT Intermix
old and new Flamex products
.
Use to treat:
Letters

Copier paper

Newspapers and magazines

Paper trash and packaging

Matte board, cardstock
For more information on how to apply Rosco Flamex PC, please visit the Rosco website.
https://us.rosco.com/en/product/roscoflamex-pc
Category Flame Retardant
* Based on residence in Ireland. Tax rates for other countries will be calculated at the checkout. Price exclusive of tax: €88.46.