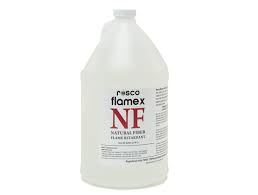 Rosco Flamex NF 3.79 Litre
€72.81 incl. tax*
Description
Most fabrics made of natural fibers can be effectively treated using Rosco flamex NF. Easy to use, with NO GREASY after effects. Rosco Flamex NF is the best solution for insuring your scenery and props meet local fire regulations.
Do Not Intermix
old and new Flamex products.
Use to treat:
Cotton

Muslin

Scrims

Cotton Netting

Natural Velours

Wools

Linens

Natural Felts
For instructions on use on specific materials please visit the Rosco website.
https://us.rosco.com/en/product/roscoflamex-nf
Category Flame Retardant
* Based on residence in Ireland. Tax rates for other countries will be calculated at the checkout. Price exclusive of tax: €60.17.